Table of Contents
So you want to check the PAN Aadhaar Link status? But the question is how can you check this for free? Does it cost any money or is it free? There are so many questions and today here in this blog post, we will discuss this same question and answer them as well.
Why Check PAN Aadhaar Link Status?
The government of India has made it mandatory for each and every individual of India who is an adult basically above 18 years of age to link their PAN cards with their Aadhaar Cards. But why is this so and what is the need for this? This can be a general question and can come to the mind of any individual.
The simplest answer to the above question can be, is that the Addhaar card is the prime ID card for a nation like India, and the PAN card is the only card where it is mandatorily needed for transaction purposes, so in order to track and maintain a healthy record of these things it is necessary to link these two cards.
Also, these two cards have one major thing in common and that is that these two cards can only be made only once. If you ever want to make another of any of the two then in the case of a PAN card it becomes illegal and for Aadhaar it comes under duplication and hence the request gets rejected.
Last Date for PAN Aadhaar Link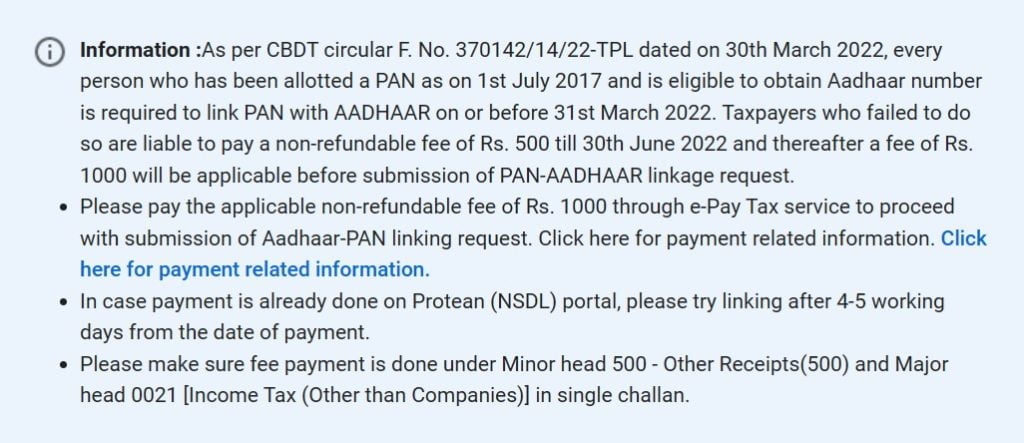 On their official website at incometax.gov.in, they have clearly stated that
As per CBDT circular F. No. 370142/14/22-TPL dated on 30th March 2022, every person who has been allotted a PAN as on 1st July 2017 and is eligible to obtain Aadhaar number is required to link PAN with AADHAAR on or before 31st March 2022.

incometax.gov.in
which means that before 31st March each and every individual has to link their PAN card with their Aadhaar card. This is only for those people who have not linked their PAN cards with their Aadhaar cards. For this reason, many people want to check the PAN Aadhaar Link status.
Taxpayers who failed to do so are liable to pay a non-refundable fee of Rs. 500 till 30th June 2022 and thereafter a fee of Rs. 1000 will be applicable before submission of PAN-AADHAAR linkage request.

incometax.gov.in
this statement clearly says that until 30th June any person could do PAN Aadhaar Link with a fee of Rs. 500 but the date has passed already so now we have to pay a fee of Rs. 1000 to do the same before the said date i.e., 31st March 2023.
Website to Check PAN Aadhaar Link Status
To check the PAN Aadhaar link status you can click on the button below which will take you to the official incometax.gov.in website where you need to enter your PAN number and Aadhaar number. You may check the screenshot attached below for reference.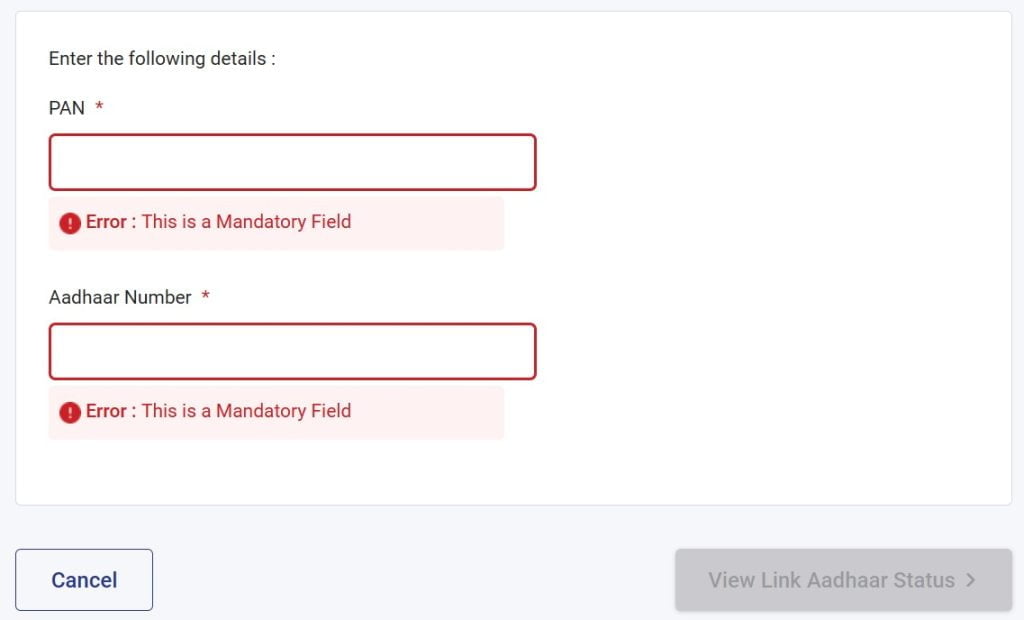 Remember that both the PAN number and the Aadhaar number are mandatory. After entering both of them click on the button "View Link Aadhaar Status" and then it will show something like the PAN number is already linked to the given Aadhaar number or they are not linked and you need to link them on this link.
Note for PAN Aadhaar Link
The following categories are exempted from Aadhaar-PAN linking that is these people need not link their PAN with their Aadhaar
NRIs or Non Residential Indians
Not a citizen of India
age > 80 years as of the date
state of residence is Assam, Meghalaya, or Jammu & Kashmir
FAQs
You May Also Like