Unfortunately, OpenAI does not offer a straightforward way to close or permanently delete OpenAI account. If you would like to discontinue using OpenAI, you can just leave it and don't use your OpenAI account, which will prevent you from being able to use the service. To permanently delete your OpenAI account, there exists two indirect methods which are described below –
Delete OpenAI Account using Help Chat
To delete the OpenAI account using this method you need to be logged in to your account on the OpenAI website and follow the below steps –
Click on the "Help" button at the top right. A popup or a small box will appear with help items and other information. You need to scroll down there.
Click on "Send us a message" inside the "Start a conversation" box.
Then click on the "Account Deletion" button/option and complete the workflow for account deletion. In this case, click on "Delete my account" and it will ask for confirmation then again click on "Yes, delete my account". After that, it will show a message like this –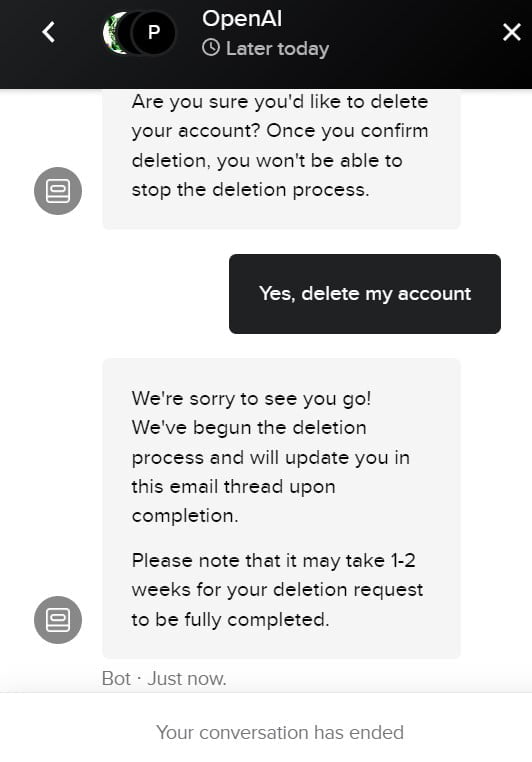 That's it, now you can relax and wait for the email to come and tell you that it's done. There is one more method that is discussed below.
Delete OpenAI Account using E-Mail Support
Note – If you send an email requesting to delete OpenAI account via [email protected] then it cannot be cancelled. E-Mail to [email protected] if you're sure that you want to delete OpenAI account. Steps are mentioned below –
Open any E-Mail client application (Gmail, Outlook etc) and then format an email to

[email protected]

from the email ID whose information you'd like to be deleted.
Don't forget to add the subject line as, "Account Deletion Request".
Now in the body of the email, mention the line "Please delete my account." and don't add anything extra.
Source
We have tried to provide appropriate information that we found on the Internet after searching a whole lot of texts and confirming from various sources. If you also want to look into the original text then here is the link to the same. Reference
Our Top Posts
Rate the Solution