Want to delete Instagram Account? Let's learn a little about it first. Instagram is a social media platform where we sign up to share our memories through photographs. Like many other users on Instagram, we upload and share photos with our followers on our Instagram profile. But sometimes we don't want to share or get frustrated by using Instagram with irrelevant content or any other personal cause. So, in that case, we try to find the easiest way to get out of it: to permanently delete Instagram account. Though we can deactivate the account or even log out from it some of us think to leave that platform permanently. You may follow this blog post to get the solution.
Exact Link to Delete Instagram Account Permanently
We will not throw much text for a single link explaining extra stuff so here are the link and button below to that Instagram account page where you can delete Instagram account without any issue or much effort. Make sure you are ready and confident to delete the account as everything will be deleted like your posts, reels, followers, and other connections.
So after you click on the button you will be redirected to the Delete your account page on which they will suggest you temporarily deactivate your account.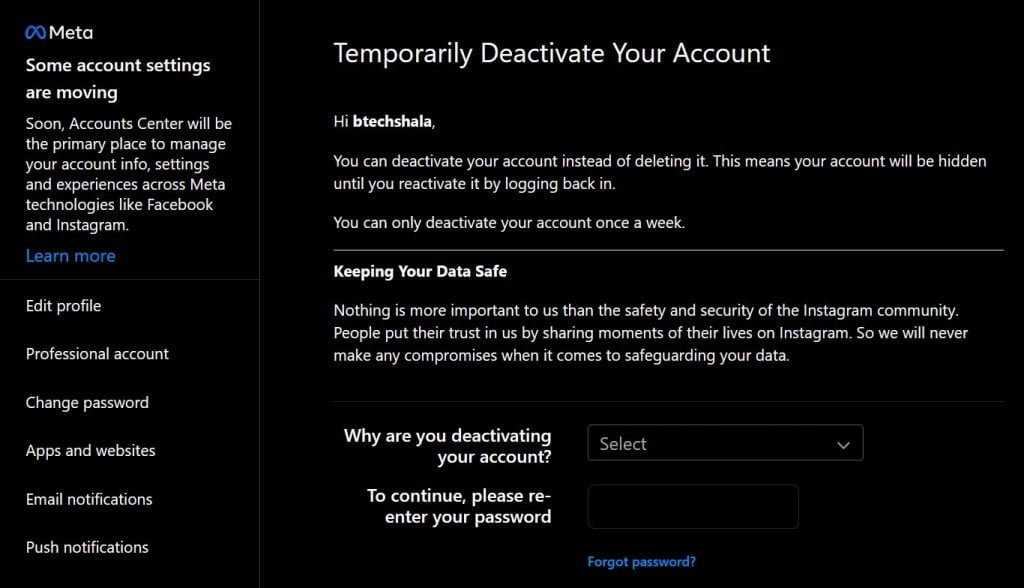 But we don't want that option so we will go to the next option where they will ask "Why do you want to delete btechshala?" and you can select any option from the list or specify your own using something else option.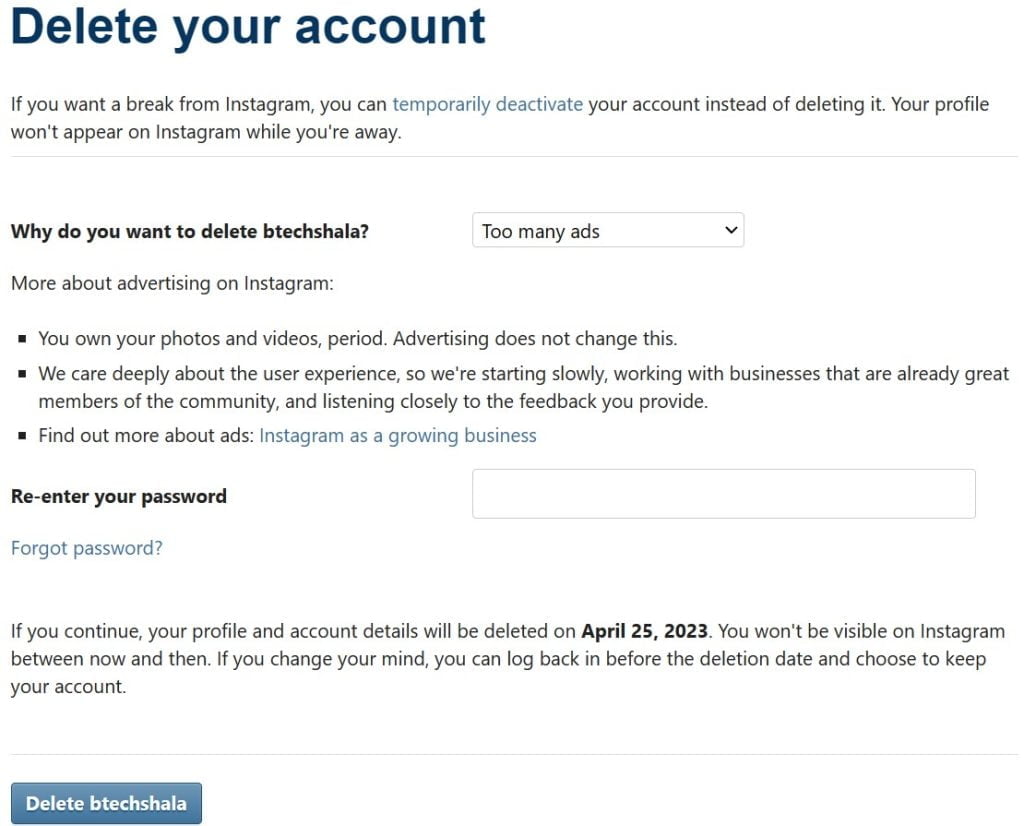 After that, you need to re-enter your password to verify that it's your account. Underneath it will show some date which is basically 30 days from today and during that time if you change your mind and log in again using the same credentials then you can reactivate the account. Basically, this means that you have 1 month time period before the account gets fully deleted.
"Your profile and account details will be hidden until April 25, 2023 and deleted on that date."

instagram.com
That line is the last line telling you that your profile and account details will be hidden till that date. Hope you got the solution and in case you have more questions then comment down below this post. We would love to hear them out and reply as soon as possible. Thanks for reading and come back again for any other tech help.
Conclusion
Step 1: Log in to your Instagram account using a web browser or the app on your phone.
Step 2: Go to the "Delete Your Account" page on Instagram's website, which you can access through this link: https://www.instagram.com/accounts/remove/request/permanent/.
Step 3: From the drop-down menu, select the reason why you want to delete Instagram account. Instagram will use this feedback to improve its platform and address any concerns you may have.
Step 4: Re-enter your password to confirm your identity.
Step 5: Click or tap "Delete [username]" to delete Instagram account.
You May Also Like