Creating realistic images with AI is such a vibe.
There's just something so incredibly fulfilling about crafting an image that appears totally authentic! 😍 #satisfying #photographylove
Hey guys, let's take things to the next level! How about we turn our words into stunning, lifelike images using the latest AI art generators? It's seriously mind-blowing what technology can do these days! Let's get creative and see what kind of masterpieces we can come up with! #AIart #creativity #mindblown
If you're looking to up your generative AI image game, I've got you covered! Check out curated list of the BEST photorealistic image prompts that'll help you create hyper-realistic images and will blow your mind! 🤯 Plus, I've added some of my favorite keywords to make your prompts even more epic! 🚀 Let's get creating! 💻🎨 #generativeAI #photorealistic #hyperrealistic #imageprompts #creativity #artificialintelligence
Get ready to master the art of creating stunning photorealistic images with the help of AI art generators! 🎨🤖 #AIart #photorealism #creativity Hey guys! 🙌🏼 Are you ready to take your AI-generated images to the next level? 🤖💥 Check out this guide for some amazing examples of photorealistic AI prompts! 😍 You won't believe how realistic these images have become! 😱 #AIgenerated #photorealistic #technology Get ready to unleash your creativity with Craiyon – the ultimate free AI art generator! Let your words come to life and create stunning images that will leave your followers in awe.
Let's dive into the world of AI-generated images and see how mind-blowingly realistic they can be! #AIart #digitalcreations #mindblown With Craiyon AI Image Generator it's now possible to do so.
The key to crafting those stunningly realistic images with AI is all about nailing those prompts! 💯 #AI #RealisticImages #TechTips Get ready to discover our top hacks for transforming your words into ultra-realistic visuals! #wordtoimage #hacks #visuals
Every Detail Matters with Craiyon AI Image Generator
Log on to Craiyon AI Image Generator website and write any random prompt in it, you will be surprised to see that Craiyon AI works in three models
ART Model
Drawing Model
Photo Model
Craiyon AI Image Generator- ART Model
This will generate Realistic ART of the prompt, Like below I tried something which doesn't exist but the AI engine searched and created a photo that doesn't even exist on the Internet.
You need to be specific about the prompt, like say "Elon Musk is playing football" This prompt can be more specific like "Elon Musk Playing football on the moon" or "Elon Musk Playing football underwater". These are not realistic images but AI Created it. #ai #art #aiart #aigeneratedart #visual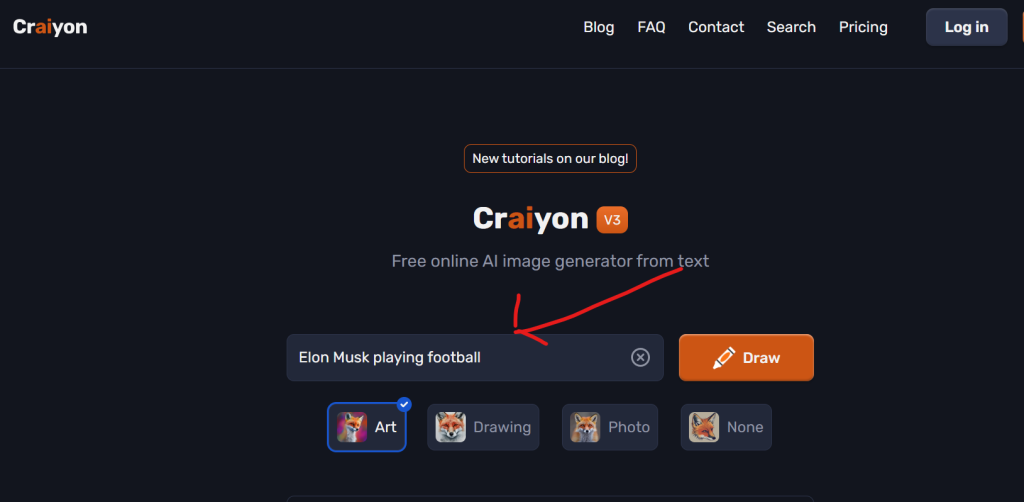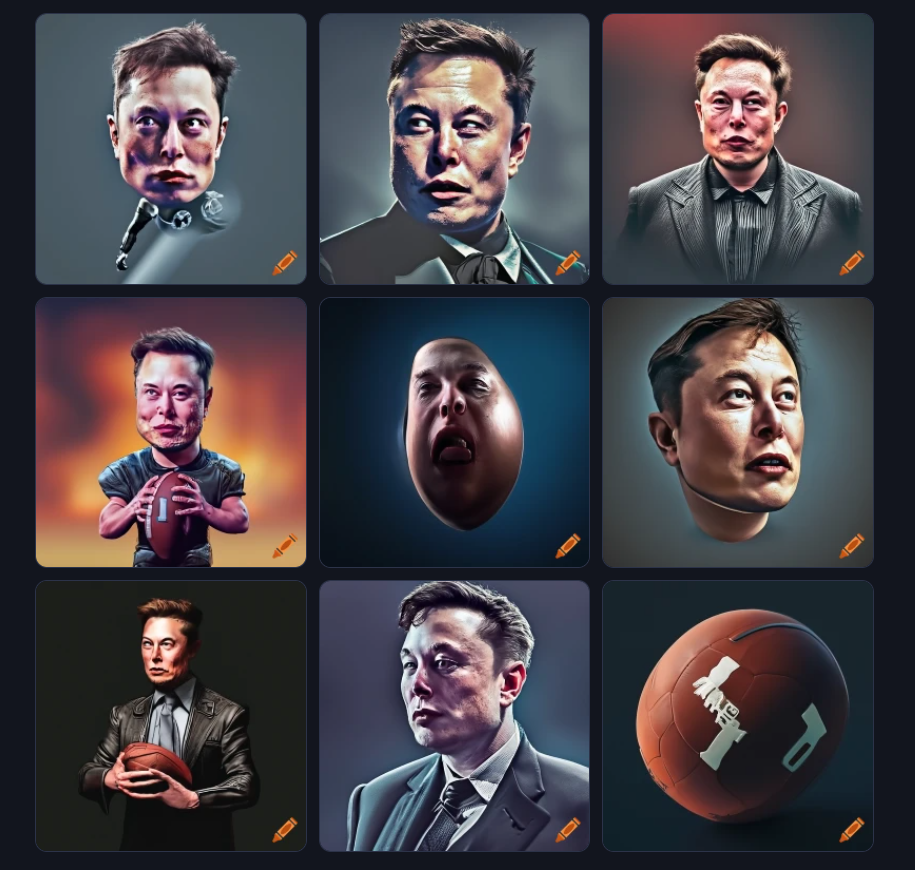 Craiyon AI Image Generator has generated stunning ART visuals and it looks impressive.
Craiyon AI Image Generator – Drawing Model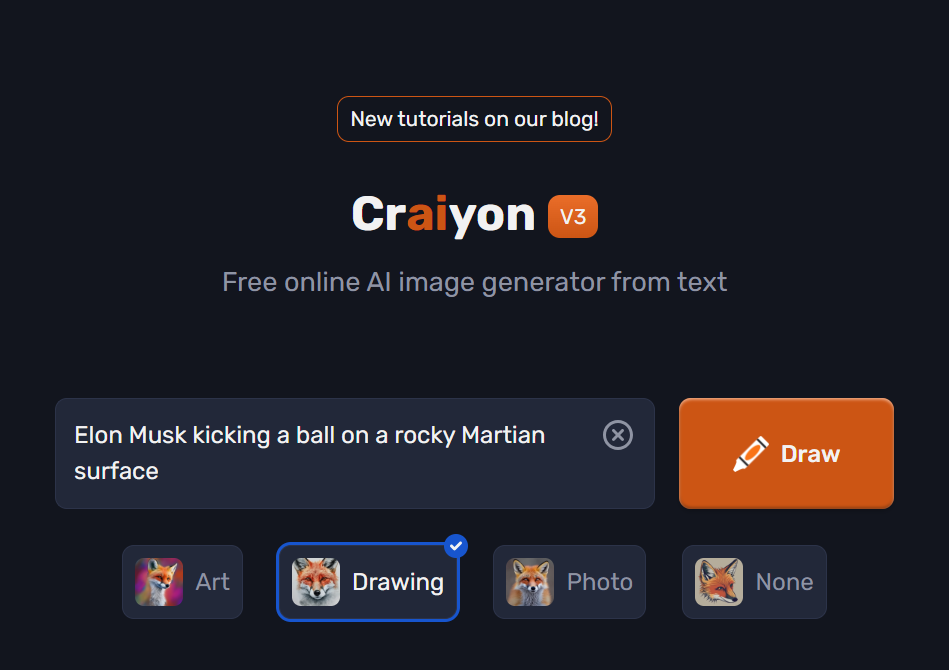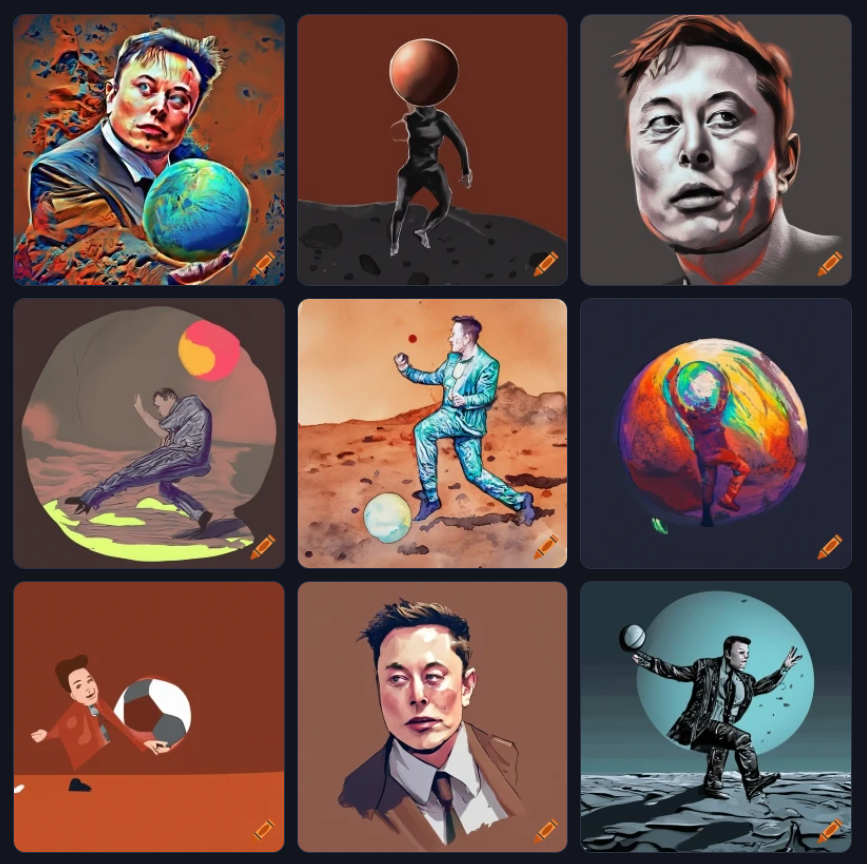 The above stunning drawing looks amazing, this model has generated 9 drawing of
"Elon Musk kicking a ball on a rocky martian surface".
Craiyon AI Image Generator- Photo Model
Photo model can create photos but the catch is you need to provide every single detail for the perfect output.
Prompt:
"3D Image of Cat Playing"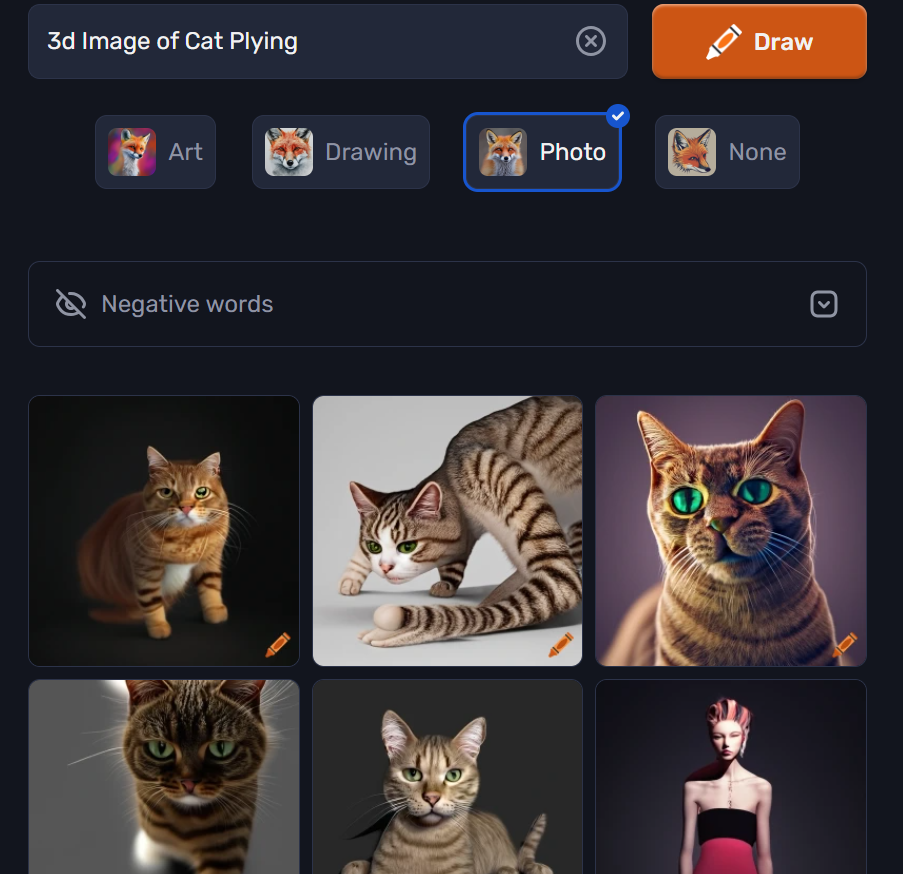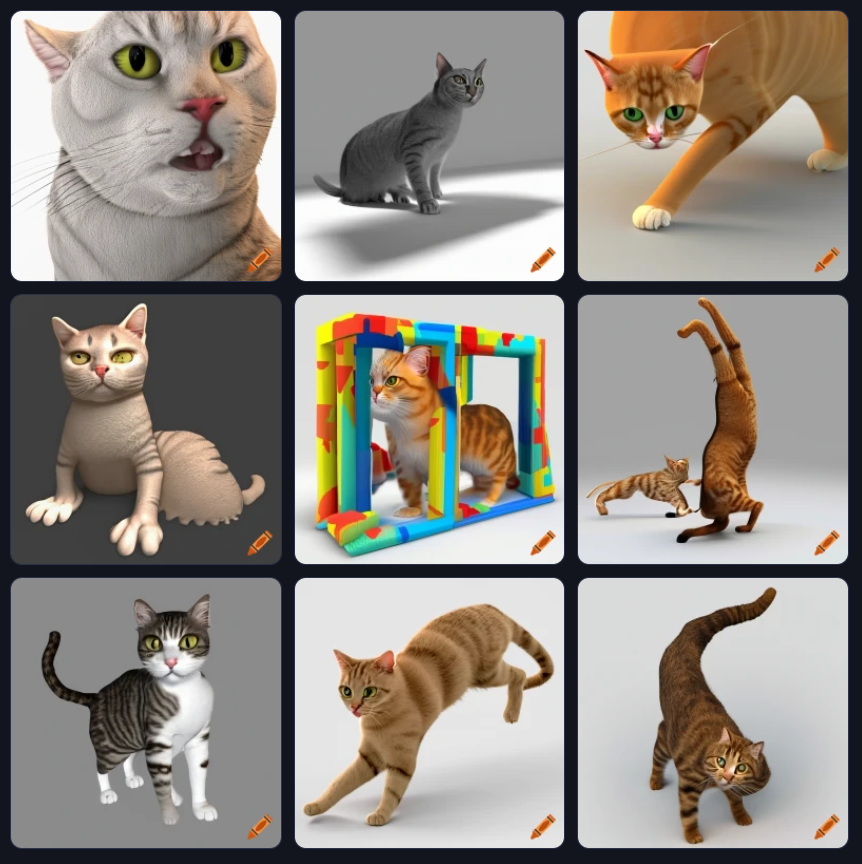 "3D image of Cat Playing from the Canon Dual Fish Eye Lens in the Soft texture, colorful in natural light"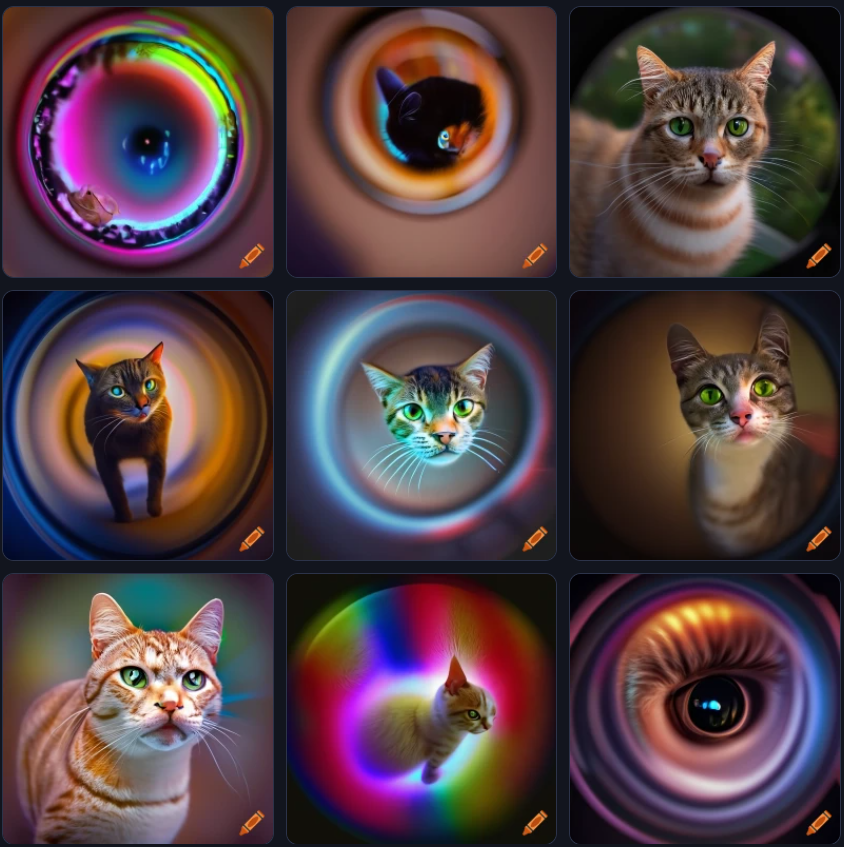 You can use the following while creating images from the AI, this will help you to get the expected output.
Photography & Camera Terms
Photograph
Photo
Photography
Award winning photography
Underwater photography
Professional photography
Portrait photograph
NIKON 30mm lens
High speed photography
Film movie still
50mm
macro
photo realism
15mm wide-angle lens
35mm lens
85mm lens
80mm camera lens
200mm lens
bokeh
Fujifilm digital
Soft focus
Vintage film
photorealistic
studio medium
depth of field
Unsplash
Unsplash contest winner
editorial style
Texture & Quality
Soft
Hard
Velvet
Insanely detailed and intricate
Super detailed
Hyperrealistic
National Geographic
High resolution
High definition
super-resolution
High speed phototography
8K
4K
32K
full HD
ultra detailed
delicate details
slow shutter
high detail
Camera Angle View
ultra wide angle
wide angle
aerial view
massive scale
street level view
landscape
panoramic
bokeh
overhead photography
fisheye
dutch angle
low angle
extreme long-shot
long shot
close up
zoomed out
extreme close-up
Texture & Quality
Soft
Hard
Velvet
Insanely detailed and intricate
Super detailed
Hyperrealistic
National Geographic
High resolution
High definition
super-resolution
High speed phototography
8K
4K
32K
full HD
ultra detailed
delicate details
slow shutter
high detail
Vibe
beautiful
stunning
brilliant
colorful
massive
symmetrical
rich
saturated
accurate
fine
dramatic
precise
luxe
vivid
ultimate
moody
Lighting
Hard rim lighting
Professional lighting
natural light
warm lighting
bright lighting
daylight
early morning
golden hours sunlight
lens flare
volumetric lighting
cool color
tilt blur
white balance
vignetting
accent lighting
backlight
dim lighting
soft lighting
diffused lighting
Sepia
Polarized light
long exposure
Candle light
dark
night view
Realistic Faces
symmetrical face
accurate face
detailed skin
You may also like